J/105 Racing
The J/105, a versatile 34' racer/crusier/daysailer, has enjoyed immense success for a boat of its size. Since its debut in 1991, more than 720 hulls have been built. While the J/105 is easy for anyone to sail, one-design racing is its 'bread and butter'. Seattle is home to a very active J/105 fleet. We have three 105s in the SSC fleet. It was thrilling to reintroduce this program in 2010, and we can't wait for the following summers. The possibilities for fun, learning, and competition are boundless.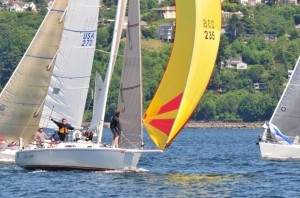 We participate in Corinthian Yacht Club's Wednesday Night Big Boat Series From April – September
Typically, there are 4-6 J/105s out racing, up to 10
Fun, competitive, and friendly fleet
Gain experience with the Asymmetrical Spinnaker
Enjoy the fun of racing a big, fast boat
Professional race committee
Whidbey Island Race Week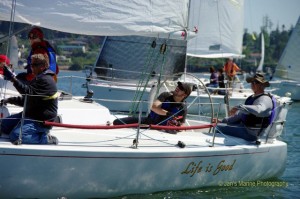 For a number of years, Seattle Sailing Club has put together a crew and sent a J/105 team up to Whidbey Island Race Week, the biggest series of the year.
This is an opportunity for the most committed SSC racers to experience the day-in-day-out dynamic of a high-level racing series.
With three J/105s in the SSC Fleet now, there are more and more opportunities for members to head up to Oak Harbor and get in on the fun!
Upcoming Racing Events
[ai1ec view="posterboard" cat_name="Racing Programs, Races"]