Teambuilding Events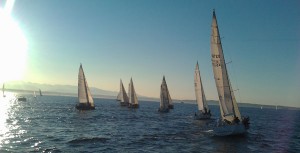 If you're thinking of a group event, Seattle Sailing Club offers the highest quality and a wide variety of team building and recreational events for groups of any type – corporate, community, or personal.  Our varied fleet of 19 sailing yachts, experienced professional staff, and convenient Seattle location make our group programming efficient, easy, and fun!   Consider Seattle Sailing Club for the following possibilities:
Professional Teambuilding
Whether you work with several people or several dozen, sharing experience outside of the office is a good thing.  Teambuilding events at Seattle Sailing club occur in a safe and supportive environment while expanding comfort zones, promoting synergy, and bringing people together.   The benefits in the workplace are innumerable.  And it's FUN, of course!
Within the Professional Teambuilding Program you have several options: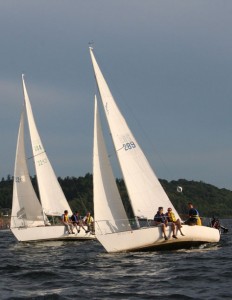 Race Events

: Groups will divide into crews of 4-6 people, participate in a brief learn-to-sail chalk talk in our classroom, and then get out on the water.  Teams will spend the first portion of the event practicing, and the remainder participating in a series of short sailboat races.

Cruising Events

: Take your group to any number of local day sailing destinations, the sailing journey is always the best part, but the possibilities when you get there are endless: wine-tasting on Bainbridge Island; a picnic at Blake Island State Park; a nice meal on the water at a local port.

The Ultimate Adventure

:  You and your team of up to six and two professional instructors will sail 30 hours non-stop, making big miles around the Sound and the islands, enjoying exhilaration of life under sail.  You will work together to meet the needs and challenges presented by the experience, sailing night and day in "watches" so that your other team members can rest and recuperate.  This is an experience that will bring your team together as colleagues and friends, and provide each of you with fond memories of a grand adventure!


Client Entertainment

Spectacular views of the Olympic and Cascade mountain ranges, the extraordinary Seattle skyline, and abundant sea life make spending time on the Puget Sound a special experience for locals and out-of-town guests alike.  Our friendly and professional staff of sailing instructors will take care of all the sailing while you show your guests a good time on our comfortable and fun-to-sail fleet.  Feel free to get involved in the sailing too!
We can accommodate up to 80 Participants for Teambuilding or Entertainment events.
Please call or email us for more information, pricing, and date availability: (206) 782-5100 or info@seattlesailing.com