Experience the ultimate sailing adventure in the breathtaking Sea of Cortez with a Cruise N Learn (ASA 103 + ASA 104) sailing lessons in La Paz, Mexico. Set sail from Marina Palmira aboard the Catalina 42′ sailboat, Vantage, and explore the magnificent winds and warm waters of the Gulf of California. Fly into Cabo, meet your experienced instructors and fellow classmates, and embark on an educational journey that will enhance your sailing skills while immersing you in the stunning beauty of the Sea of Cortez. Don't miss this incredible opportunity to take the next step in your sailing adventures and create unforgettable memories in one of the world's most captivating sailing destinations. For the safety of our students and staff, Seattle Sailing Club requires proof of a COVID-19 vaccination for all overnight lessons. 
Book the Boat!
Parties of 3 – 4 give us a call for availability and group discounts!
Lesson Calendar + Registration
Live Aboard Vantage!
Vantage, a 1992 42-foot sloop-rigged sailboat, perfectly combines comfort and functionality. With its spacious three cabins, bright and inviting saloon, and well-stocked galley, you'll feel right at home while navigating the stunning waters of the Sea of Cortez.
Vantage also offers a bimini and dodger, providing ample shade and protection from the elements. Its versatile design and excellent sailing hull shape make it a capable cruiser, ensuring a smooth and enjoyable journey as you explore the Sea of Cortez.
About the Course
Become a Skipper!
The Cruise N Learn is 5-day liveaboard lesson covering ASA's Basic Coastal Cruising and Bareboat Charter (103 + 104) certifications. Students will learn to safely skipper keelboats up to 45 feet in coastal waters in an immersive and breathtaking environment. Students will take part in planning their adventure as well as provision the boat with food and beverages.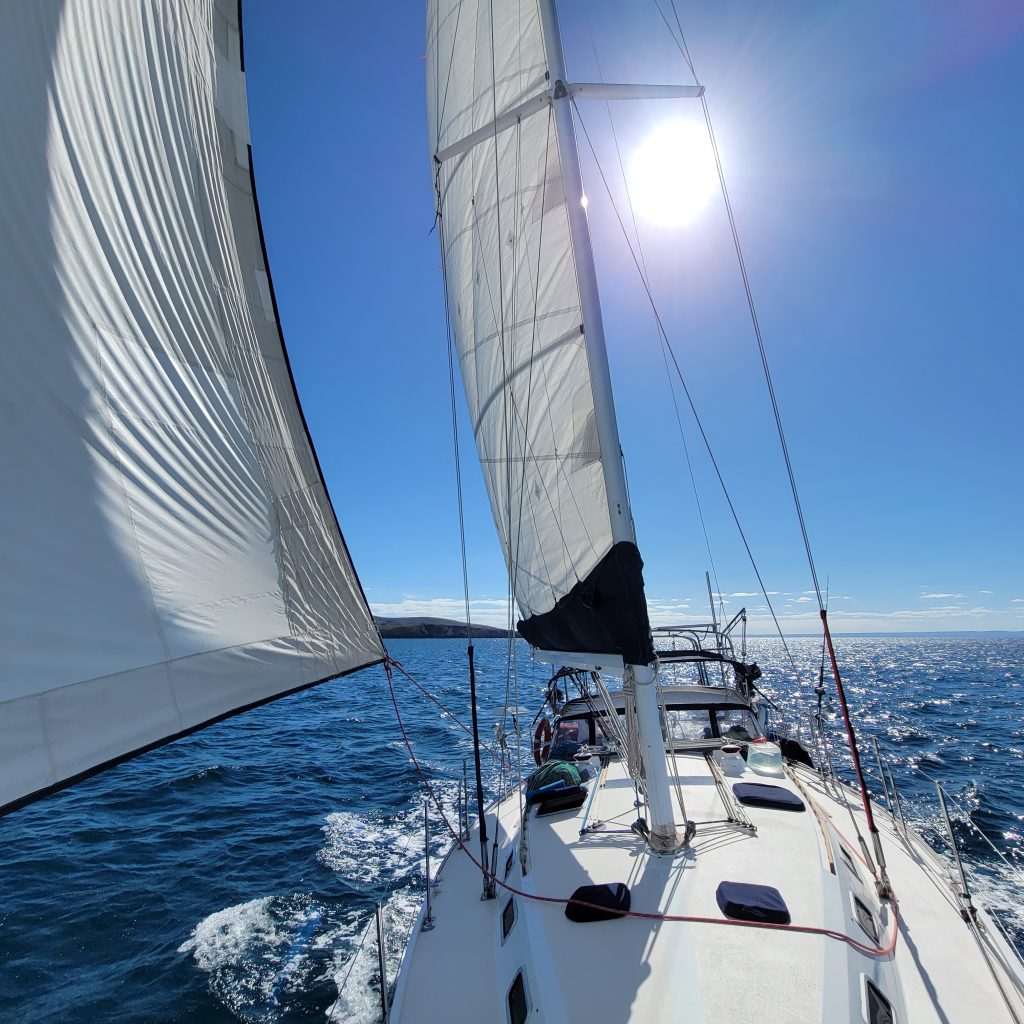 Getting there!
Documentation & National Park Passes
Visas (Forma Migratoria Multiple "FMM") are required but getting them can depend on arrival locations. By air thru SJD, passports are simply stamped with an exit date corresponding to how long you tell customs agents you are visiting. The $40 cost of an FMM is included in the Alaska airline tickets thru SJD last fall. Air travel via LAP may require getting a paper FMM. For travel by land (a 3-4 day, 900 mile trip from San Diego), FMMs must be obtained at the border offices. 
National Park passes are required for boat trips to the beautiful islands of Espiritu Santo and Partida north of La Paz, as well as nearby Ballandra Bay (day anchorage only). While available online, hard copies must be on hand as either daily bracelets or longer term passes. 
Fishing licenses are required for anyone wanting to fish and can be obtained online or from Darsena or other nearby offices. Vantage has rod holders, gaff and cleaning table but students must bring their own fishing gear.
Airports
Los Cabos Airport (SJD) is the most economical way to fly into Mexico. It is a 2.5 hour drive or 3 hour bus ride to La Paz. Alaska Airlines has daily nonstop flights from Seattle to SJD. American airlines also serves SJD.
La Paz International Airport (LAP) is 16 km from Marina Palmira, but serves only a few Mexican airlines like Aeromexico and Volaris. One way to make LAP work is to fly Seattle to San Diego, collect baggage then take a shuttle to the Custom Border Xing (CBX – app available) pedestrian bridge that connects directly with the Tijuana International Airport (TIJ), then fly Volaris from TIJ to LAP. While this option is potentially less costly than via SJD it probably requires an overnight in San Diego. 
Transportation from Los Cabos Airport (SJD)
From SJD, Baja EcoTours has several shuttles daily to the La Paz bus station. These comfortable 12 passenger shuttles have AC and seat belts and cost $32 per person each way. The western route is smooth road and scenic along the coast thru El Pescadero/Cerritos and Todos Santos. The eastern route goes thru scenic but mountainous terrain, and may depend on whether the shuttle is servicing passengers along that route (Los Bariles). Other shuttles/buses may be available. 
Transportation from La Paz International Airport (LAP)
Short taxi ride from the La Paz bus station to Marina Palmira costs 70 pesos. About a 10 minute taxi ride from the LAP airport.
DIDI is a ride share option in La Paz, but Uber isn't dependable yet.
Rental cars are available from SJD. Mexican auto insurance is required and paid for with the rental cost but – be warned – it is not always included in the quoted rental price. Paid parking is available at Marina Palmira.
While there
The taxi stand is just outside the guarded marina entrance.
Three restaurant/bars are located in the marina. 
Nearby accommodations include "Rosa's" AirBnb in the Atalanta condos (2 BR, 2 bath, full kitchen, AC) and the City Express Hotel.
The beautiful "Malecon" boardwalk along the shore makes for a nice stroll. The nearest restaurant is "Molintos" about 1km walk back towards town.
Cell service is very good and the marina has free wireless on the docks and in the "cruiser's lounge", which also has a book exchange.
Washers/dryers available in marina using tokens purchased at the marina tienda.