Seattle Sailing Club Fleet
The Seattle Sailing Club is nothing without our fleet of excellent sailboats moored right here on the Puget Sound. We're confident that you'll find our boats of the highest quality design and craftsmanship, and our professional maintenance staff keeps the boats in clean and fully functional order. The fleet is divided into three categories, based on the levels of Unlimited Day Sailing Memberships: the Northwest Club Fleet, and the Seattle J/Club Fleet. Olympic Club Members have access to the entire SSC fleet on a pay-per-use basis.
The Northwest Club Sailboats
The Northwest Club is comprised of our fleet of under 30ft foot day sailors, club racers, and pocket cruisers. An
ASA 103 Basic Coastal Cruising
certification or "Small Boat Check-out" qualifies you to sail everything in this fleet.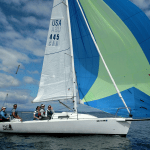 Our J/80s are the pinnacle of day sailing options. With three sails to choose from, you can enjoy a mellow sunset cruise or a rocket ship charging through the waves. The choice is yours. It is no wonder Sailing World rated the J/80 as "easier to handle, less intimidating, safer and better suited for sailing offshore than other modern sport boats tested."
Read more…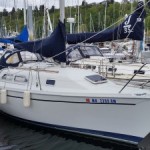 The Ericson 26 is a fantastic pocket cruiser for the PNW. Equipped with a bimini, dodger, galley, and head – this cruiser is the perfect fit for a weekend cruise. Read more…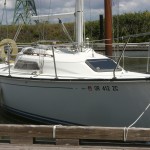 The C&C 27 is the perfect all-around pocket cruiser. Equipped with a head, galley, and room to sleep 4 comfortably, the C&C 27s are popular for both day sails and overnights. Read more…
The Seattle J/Club Sailboats
The Seattle Club fleet opens the door to extended cruising. These large, comfortable, and well-equipped cruisers make perfect vessels for day sails or overnight cruises on the beautiful Puget Sound. An ASA 104 Bareboat Charter certification qualifies you to sail everything in this fleet.