Sailing Lessons
Taking the first step into the sailing community can sometimes feel more like a giant leap. The Seattle Sailing Club, in conjunction with the American Sailing Association, not only takes the stress out of the journey, it makes it fun. Our experienced instructors are sure to provide you with all the information necessary to succeed in your sailing lessons. They will work at your speed, allowing you to make the most out of every minute you spend on the Puget Sound. We guarantee that you will feel comfortable on the water and have the knowledge to pass the course and receive the American Sailing Association seal of approval.
ASA 101 Basic Keelboat
These 15-hour sailing lessons are designed for students who have either never sailed, or have been on the water and are ready to learn more. It is the perfect first step towards becoming a competent sailor.
Book Your Sailing Lesson Below
July 2013 was my first real time sailing. I had a great lesson with Lloyd and I plan to keep coming back!   Alex M. -- SSC Student
ASA 103 Basic Coastal Cruising
These 21-hour sailing lessons build directly on the skills learned from ASA 101. If your goal is to skipper boats under 30 feet, equipped with an inboard or outboard engine, and tiller driven, look no further.
My favorite memory was taking out a J/24 with my ASA 103 class as a graduation sail and having a big eagle soar over the boat while sailing 6-7 knots.   Cindy P. -- SSC Student 2013
ASA 104 Bareboat Charter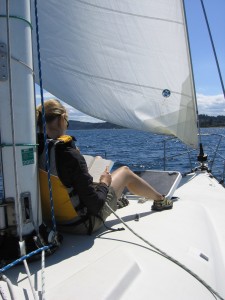 Enter the big boat world and spend a weekend on a boat 35′-45′ in length with three other students and a certified skipper. In these sailing lessons, you will take the skills from your previous courses and apply them to a larger boat. Additionally, you will learn how to troubleshoot common diesel engine problems, preparing you for a trip of your own day sails or overnight charters.
Cruise N Learn – ASA 103 + ASA 104 Combo Class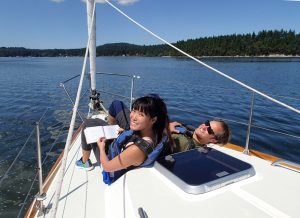 Spend 5 days & 4 nights out on the water getting certified for ASA 103 Basic Coastal Cruising + ASA 104 Bareboat charter. These sailing lessons will follow the same topics as the ASA 103 + ASA 104. 
*La Paz Cruise N Learn (only): Save 10% when booking a shared bunk for you plus a friend, partner, spouse, family member, etc. (2 people max per bunk, 4 people max per booking). Call to inquire.
Book Your Sailing Lesson Below
ASA 105 Coastal Navigation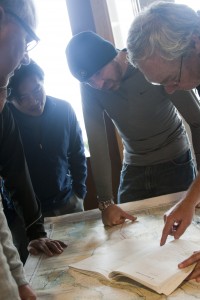 This 15-hour, classroom based sailing lesson teaches navigation by chart using navigational tools and publications.