Instructor Qualification Courses
Become a sailing instructor!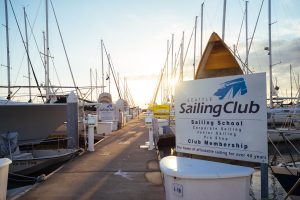 Love sailing and want to share it with others? Becoming a sailing instructor is a great way to share that passion! As an American Sailing Association affiliate with an in-house Instructor Evaluator, Seattle Sailing Club offers multiple levels of ASA Instructor Qualification Courses annually. We also offer an instructor certification conversion course for those who are certified through other sailing organizations and want to obtain ASA Instructor Certs.
Our IQCs are open to all folks interested in becoming sailing instructors whether they would like to work for the Club or not. We welcome you to join our team of instructors, but it is certainly not a requirement to join an IQC. Read on to find out what is takes to get started or simply complete our Instructor Certification Interest Form and we'll be in touch!
---
American Sailing Association Standards
To better understand ASA's culture and their expectations of ASA certified instructors, review the information below.
Offerings & Prices
ASA 200 Instructor Preparation Course (1-day private instructor preparation, $395+ $79 ASA Instructor Membership + $99 for Instructor Certification)
ASA 201 Basic Keelboat (2.5 days – $495 for class + $79 ASA Instructor Membership + $99 for Instructor Certification)
ASA 203 Basic Coastal Cruising (1-day – $195 for class + $99 for Instructor Certification)
ASA 204 Bareboat Charter (1-day – $195 for class + $99 for Instructor Certification)
ASA 205 Coastal Navigation (1-day – $195 for class + $99 for Instructor Certification)
ASA 206 Advanced Coastal Cruising (3-day overnight – $295 for class + $99 for Instructor Certification)
ASA 218 Docking Endorsement (1-day – $195 for class + $99 for Instructor Certification)
ASA 111 Asymmetrical Spinnaker Lesson (4-8 hrs – $195 for class + $99 for Instructor Certification)
200 IQC Conversion Course (1-day private, on-the-water + testing – $395 for class + $79 for ASA Membership + $99 for each certification)
How-to Sign-up for an IQC
Review the ASA standards above.
Review the calendar of upcoming IQCs below.
Update your sailing resume.
Complete the Instructor Certification Interest Form. If you find a date that works for you, include the dates in the comments field at the bottom of the form.
Once we receive your interest form, we will be in touch within 2-3 business days.
After you've completed the form, we will send you form 107A/B and 108 to apply to the upcoming IQC. Our Instructor Evaluator (IE) will review your application and let you know what the next steps are.
Upcoming Instructor Qualification Courses
---
Sailing Instructor – Work for Seattle Sailing Club
Available Now:  F/T or P/T Instructors
Seattle Sailing Club teaches American Sailing Association sailing lessons from beginner to advanced. Along with our ASA lessons, instructors also have the opportunity to instruct in team-building events, private sailing instruction, race coaching, clinics, check-out sails, seminars, and member programs.
Qualifications / Requirements
US Coast Guard License

Any tonnage
This is required to teach sailing on the Puget Sound – primarily teaching on boats with auxiliary power.

American Sailing Association Certified Instructor 201 or higher
Current Red Cross & CPR Certification
Must have a passion for sailing, the environment, and working with people.
Must have a positive attitude and understanding of a flexible schedule.
The ability to be patient and understanding of varying learning styles.
Proficient in all aspects of handling keelboat sloops from 22′ to 40′ (rigging, sailing or under auxiliary power)
Responsibilities
Provide new and experienced sailors with a safe and supportive environment to learn sailing.
Teach safety, boat handling, and sailing theory to adults in keelboats who are beginning or intermediate sailors.
Develop and follow  Seattle Sailing Club lesson plans that include classroom and on-the-water drills.
Have understanding and patience for the students and be able to adapt to their individual needs.
Maintain a clean and inviting classroom.
Train students to properly put away Club boats at the end of each sail.
Provide students with information about Club programs and events
Administer and grade ASA certification exams.
Desired Skills
Coast Guard Sailing Endorsement
Experience teaching/coaching sailing.
Racing, teaching spinnaker courses, and/or coaching race teams
Team building / Corporate experience
Local knowledge of the Puget Sound area.
Charismatic leadership
Schedule & Availability
As an instructor, you have tons of flexibility! We teach year-round and can offer work year-round to most of our instructors. We welcome instructors who want to teach as little as 4 times a year. Scheduling instructors depends on our lesson schedule, the time of year, and current events. Full-time instructors will be guaranteed 40 hours/week from April through October and will participate in team-building events, private sailing instruction, boat cleaning and maintenance, racing, seminars, and member programs.
Check-out our lessons to learn more about what each course requires.
Compensation & Benefits
Compensation: DOE
Pro deals on Gill, Dubarry, Mustang, and other brands
Access to sail the Club fleet
To apply, please send us an email introducing yourself along with a resume.