Member Programs
For over 40 years, Seattle Sailing Club has been setting the bar for affordable sailing lessons and club membership. Signing on as a member gives you access to the boats in our fleet for daysails and overnight charters, discounted rates on lessons and sailing gear, and weekly opportunities to meet the SSC community through Member Programs. Our programs are designed to help members build skills, share experiences, and enjoy all aspects of the SSC community!
Programs
Upcoming Member Programs @ Seattle Sailing Club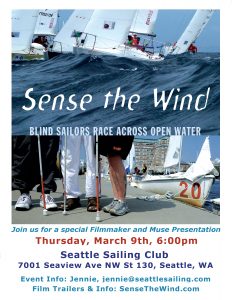 Private screening of Sense the Wind – A documentary journey into the sport of blind sailing.
March 9th, 2017 @ Seattle Sailing Club @ 6:00pm