Racing the Wind's Hands-on Weather Course
Taught by Jason Christensen
Days 1 & 2 – $750 per student
Day 3 – Weather Tactics for Racers add-on – $500 per student
Tipping: Tipping your instructor is customary within the industry, typically ranging from 10% to 20% of the course fee, and it is greatly valued and acknowledged!
---
Course intro:
Not your typical weather class! Join our hands-on weather course led by Jason Christensen, an expert offshore racing navigator and weather router who's provided tactical framework analysis for teams racing in Transpac, NHYC Cabo race, Rolex Big Boat Series, and more.
You'll work with real-time data and experience the elements firsthand. Gain the skills to interpret weather forecasts, understand sailing conditions, and navigate with precision. For advanced sailors, our exclusive racing tactical package (day 3) will elevate your strategic game. Don't just read about the weather, experience it!
Attention, racers!
Ensure you register for Day 3's supplementary session titled "Weather Tactics for Racers." During this lesson, Jason will consolidate all the knowledge acquired from days 1 and 2 to develop a strategic framework and weather plan specifically designed for the racecourse.
Important information:
This course will take place outdoors, so please prepare for varying weather conditions. The course will make use of both paper Pacific nautical charts and smartphones. Additionally, students will receive the "Racing the Wind" lesson book and a course outline.
Before the course begins, students are advised to pre-download the following apps: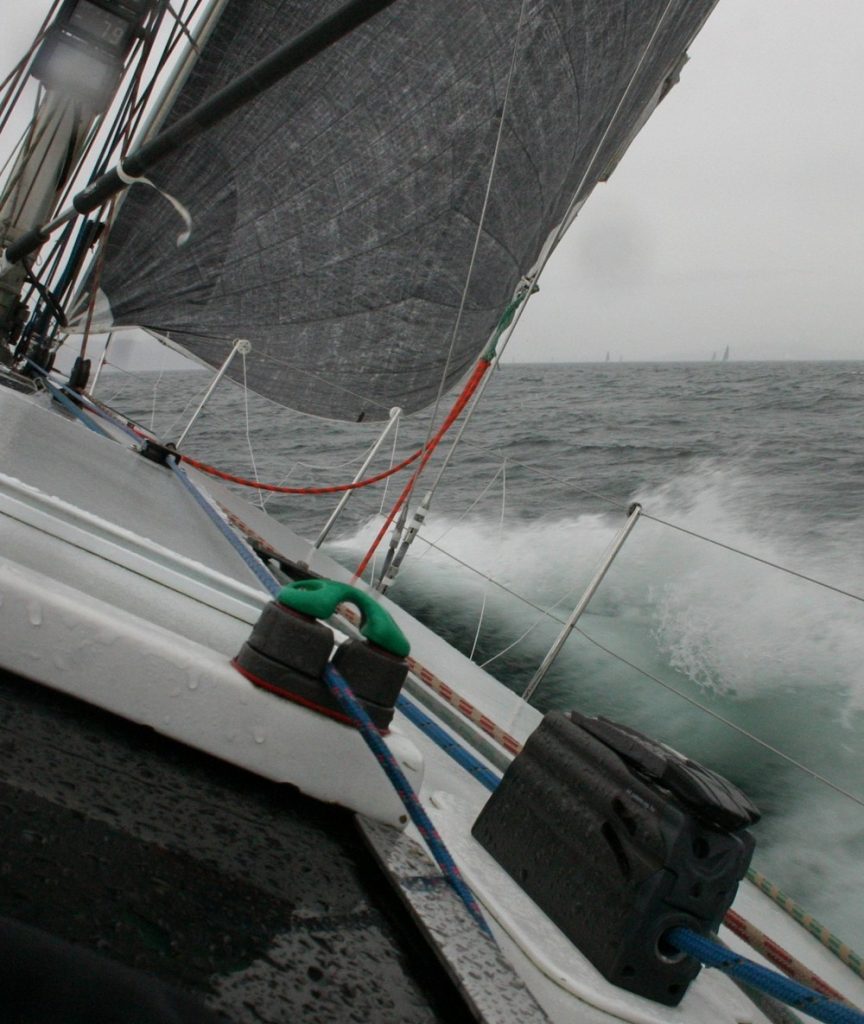 Navionics
Squid Mobile and/or QTVLM
Windy
Predict Wind Offshore
---
Class Structure
Racing the Wind's courses are hands-on in order to show how weather data and the sailing environment come together. This course allows students in to better determine what is happening with the weather, what will happen with their weather, and what factors could change what they see in a forecast.
The main body of the course is for all sailors. We utilize charts, forecasts, gribs, and observations from the local area and teach the class outside in the elements.
For advanced students, we offer an add-on package for using weather to prepare racing tactics, including how to brief other crew.
Schedule and pricing:
Hands-On Weather – Days 1 & 2 $750:

Saturday, September 16 (day 1) 9am – 5pm
Sunday, September 17 (day 2) 9am – 5pm

Weather Tactics for Racers Add-on – Day 3 +$500:

Monday, September 18 (day 3 add-on) 9am – 5pm
---
The course was created with the following goals/ideas in mind:
Weather is best taught outside; we use the outdoors as our classroom, and use barometers, our phones for data, an Atlantic (NGA 00120) and Pacific (NOAA 530) nautical charts, and thermometers.
To observe and monitor pressure and discuss the association between what winds are experienced at any given point given the synoptic pressure, local pressure influences, and local topography.
To understand directionality and orientation of wind and what that indicates over the course of the next few minutes, or few hours, or few days.
To provide a deep dive on the interpretation of the current physical environment based on a crisp clear understanding of various data and sources for these data: grib data, synoptic charts, forecasts, observations
Global Weather Regions and how this regionality plays into weather patterns overall

Understand currents and their influence on weather and tradeoffs of wind vs currents strategy
Understand topology and it's effect on wind and currents
---
About the Instructor
Meet Jason Christensen, the visionary behind racingthewind.com and a dedicated instructor at Seattle Sailing Club. At Racing the Wind, he has passionately focused on providing Weather, Navigation, and Routing tools and invaluable advice tailored specifically for adventurers, racers, and delivery captains.
Over the last 6 years, Jason has flourished as an offshore racing navigator and weather router. His expertise has consistently led to podium finishes in prestigious events such as the Pacific Cup and Nelsons Cup in Antigua, as well as numerous other inshore and coastal races. His knowledge extends to support ocean adventurers in pursuing their passion while ensuring their safety, as well.
Jason's reputation as a weather guru has made him a sought-after consultant by various race teams. He provides invaluable pre-race weather briefings and tactical framework analyses for renowned races like Transpac, the Cabo race, and the Rolex Big Boat Series. Additionally, he collaborates with delivery captains, assisting them in navigating through delivery weather windows and unexpected weather anomalies.
His fascination with weather began early in life, growing up in Tornado Alley. His journey led him to work as a firefighter in both urban and urban interface environments, honing his expertise in critical weather decision-making.
Before embarking on his sailing and weather ventures, Jason enjoyed his career, handling complex computational computer systems for some of the world's largest corporations. Merging all of his experiences and knowledge, he founded the training division of Racing the Wind, aiming to share the essential "on the ground" fundamentals of sailing and racing weather with others.
Jason Christensen's dedication to the sailing community, his deep-rooted passion for weather, and his wealth of experience make him a true trailblazer in the world of sailing and racing weather.