Skippered Sailing Cruise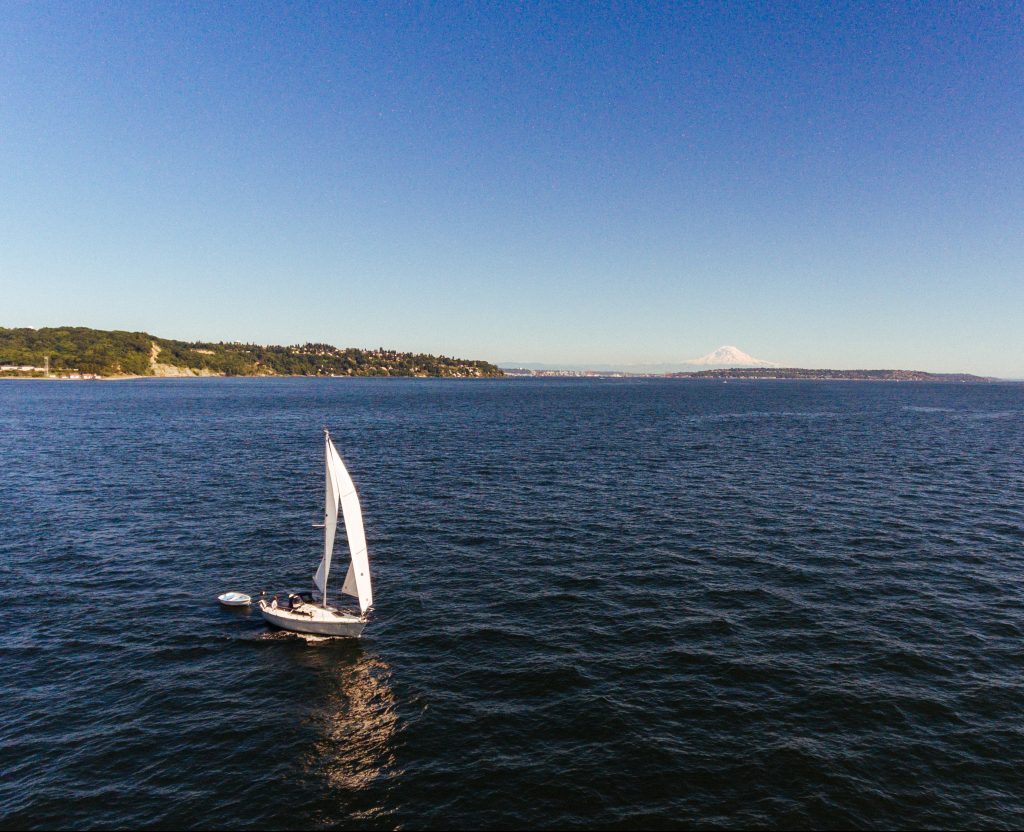 Our Skippered Sailing Cruise is a 2-3 hour, one-of-a-kind sailing experience offering a unique opportunity to explore the stunning beauty of the Salish Sea with the safety of having a licensed captain on board. Surrounded by the majestic mountains of the Olympic Peninsula and lush green forests, sailing across the Puget Sound offers a sense of freedom and tranquility.
Depending on what you're looking for, participants have the opportunity to take the helm or adjust the sails with the guidance of a licensed skipper or simply enjoy the ride while soaking in the stunning surroundings.
As you sail along, keep your eyes peeled for the abundant wildlife that calls the Puget Sound home. You may see pods of orca whales swimming in the distance, harbor seals basking in the sun, or bald eagles and ospreys soaring above.
Whether you're looking for a romantic sunset cruise or an evening with family and friends, a skippered cruise is an experience you won't forget. So sit back, relax, and let the captain take care of everything as you enjoy the beauty of the Salish Sea.
Important Note:
It's important to note that this sailing adventure is hosted on a sailboat, which may present mobility challenges for some guests. The boat's bathroom, for instance, is only accessible by ladder into the cabin. Additionally, depending on the conditions of the Puget Sound, moving around the boat may be difficult for those with mobility difficulties. Our licensed skipper may also require assistance during the cruise.
Per Event Capacities
Maximum: 5 participants
Minimum: 3 participants
Skippered Cruises are popular events at Seattle Sailing Club. We have a running waitlist of folks who would like to participate. Please let us know if you would like to cancel as soon as possible.
If you are sick or have been in contact with someone who has tested positive for COVID-19 in the last 14 days, we ask that you do not attend the event – please give us a call.
All cancellations must be sent directly to info@seattlesailing.com. Do not reply to any of your automatic event emails – we will not receive your cancellation.
Cancellations are available up to 72 hours in advance for a full refund. Cancellations within 72 hours of the event are subject to a 50% rescheduling or cancellation fee.
Refunds or transfers are not given to no-shows. Cancellations made by the Club due to heavy conditions, low visibility or thunder/lightning can happen. In these cases, you will be refunded for your event or you may use the credit toward a future event. Send us an email to let us know if you would like to be refunded or rebooked to another event.
Q: What should I be aware of when joining one of your skippered cruises?
Sea Sickness: Sailing on open water can lead to seasickness for some individuals. It's advisable to bring motion sickness remedies and consult a healthcare professional if you're prone to seasickness.
Unpredictable Weather: Weather conditions can change rapidly at sea, which may affect the overall experience. The captain will prioritize safety and may need to adjust the itinerary or return to port if conditions become unfavorable.
Mobility Challenges: Moving around a sailboat can be challenging, especially for individuals with limited mobility. Participants should be aware of the potential difficulties and plan accordingly. Additionally, please note that the bathroom on the boat is only accessible by ladder into the cabin.
Assisting the Skipper: In certain situations, the skipper may require assistance from participants. This could involve tasks related to sailing, safety procedures, or maneuvering the boat.
Life Jackets and Safety Equipment: Participants will be provided with life jackets and briefed on safety procedures. It's crucial to follow all safety instructions provided by the skipper.
Proper Attire: Participants should wear appropriate clothing for the weather conditions, including layers and waterproof gear if necessary. Non-slip, closed-toe shoes are recommended.
Sun Protection: Sunscreen, hats, and sunglasses are essential to protect against sunburn and glare from the water.
Hydration and Snacks: It's important to stay hydrated while on the water. Bring an adequate supply of water and snacks.
Wildlife Interaction: While observing wildlife can be a thrilling part of the experience, it's crucial to do so from a safe distance and respect their natural habitat.
Alcohol Consumption: Sun and being on the water can increase the effects of alcohol; for your safety and the safety of others, alcohol is allowed only in moderation. Please avoid bringing red wine on board as it has a propensity to stain gel coat. Please follow any guidelines provided by the skipper.
Emergency Procedures: Participants will be briefed on emergency procedures, including how to use safety equipment and what to do in the event of an emergency.
Medical Conditions: Participants should inform the skipper of any medical conditions or allergies that may require special attention during the cruise.
Q: How can I prepare for my Skippered Cruise?
Schedule your sail. Call or email the club to schedule your lesson.
Pack your bag according to the marine weather forecast. We suggest bringing a waterproof outer shell, warm layers made with polyester, fleece, wool or merino wool (no cotton), non-slip/non-marking shoes and sunscreen. The National Oceanic and Atmospheric Administration's (NOAA) website provides up-to-date weather forecasts for the Puget Sound area. At the bottom of the page, you will find the forecast for the Puget Sound and Hood Canal
Q: What kind of boat will we be on?
These events take place on one of our 30'+ sloop rigged sailboats.
Q: Will we sail if it is raining?
Yes, these events are rain or shine. The Club will cancel the event if the wind is blowing 20kts+ (or 15+kts in the winter), thundering/lightning, low visibility (fog/smoke), or the minimum number of participants was not met for the event.
Q: What do I bring or wear?
Always check the weather and pack accordingly! Please do not wear black soled shoes on board. Bring a jacket, a warm layer, and a hat – even in the summer it can be very chilly on the water. In the winter, please bring a warm clothing, a blanket and a warm beverage of your choosing. In Summer, don't forget to bring sunscreen! Food and non-alcoholic beverages are welcome on board.