Help Us Support Team Puff In the 2017 Pink Boat Regatta!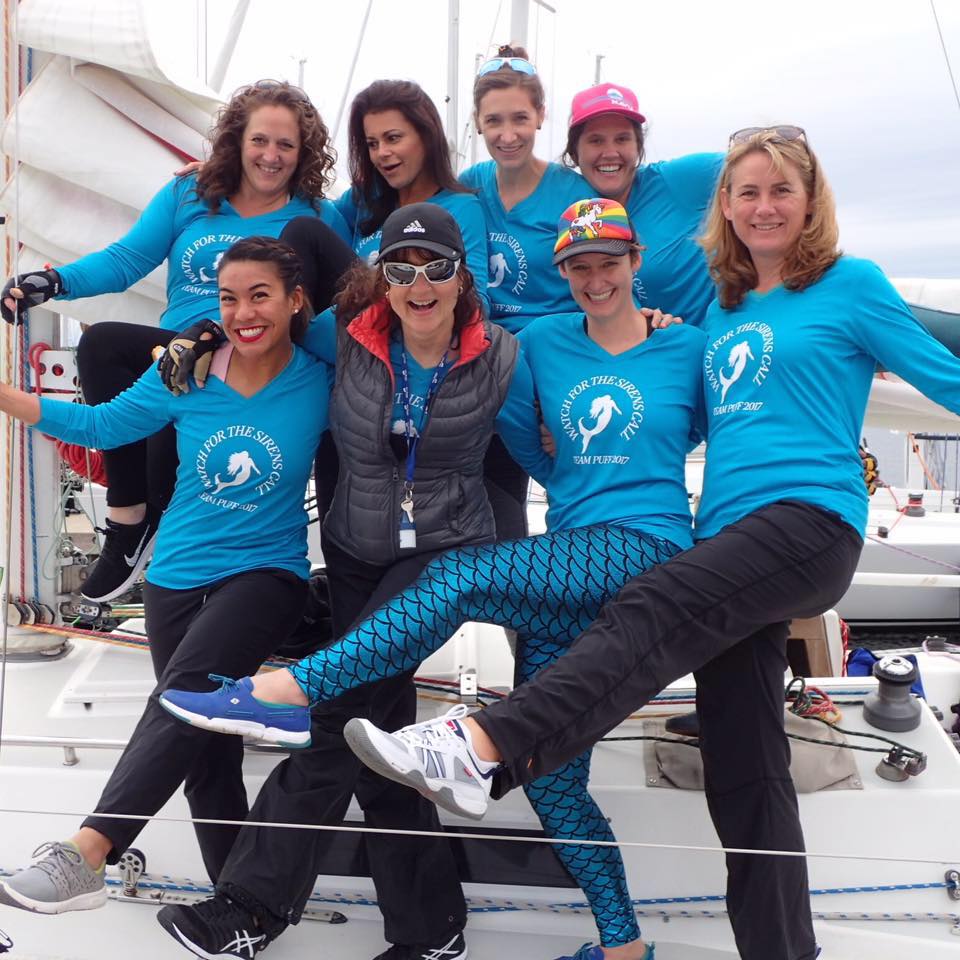 The Team
Puff is a team of 8 strong, competitive, and skillful women sailors who met at Seattle Sailing Club and have been racing on J/105 "Puff" in Sloop Tavern Yacht Club's Ballard Cup the last 2 summers. They are thrilled to be competing for the 2nd time in this year's 2017 Pink Boat Regatta and Seattle Sailing Club is excited to be sponsoring them again!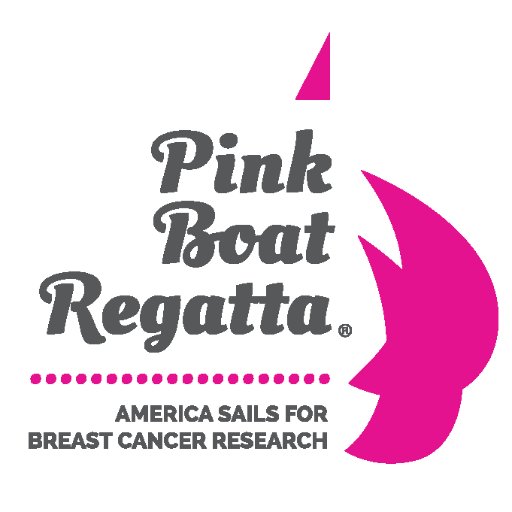 Pink Boat Regatta
Pink Boat Regatta has been going strong for the last 6 years and raised over $324,000 for breast cancer research. "Every year, sailors and supporters alike start planning months ahead of time to don their pink, get their sailboats race ready, and begin campaigning as part of an event which was built upon by a passionate little Seattle sailing community dedicated to getting on the water for something greater. "

Breast Cancer Research Foundation
"BCRF is committed to the highest degree of fundraising efficiency. Currently, 91 cents of every dollar we spend is directed towards breast cancer research and awareness programs. Each year, the maximum amount of dollars is directed to research rather than a future endowment"
---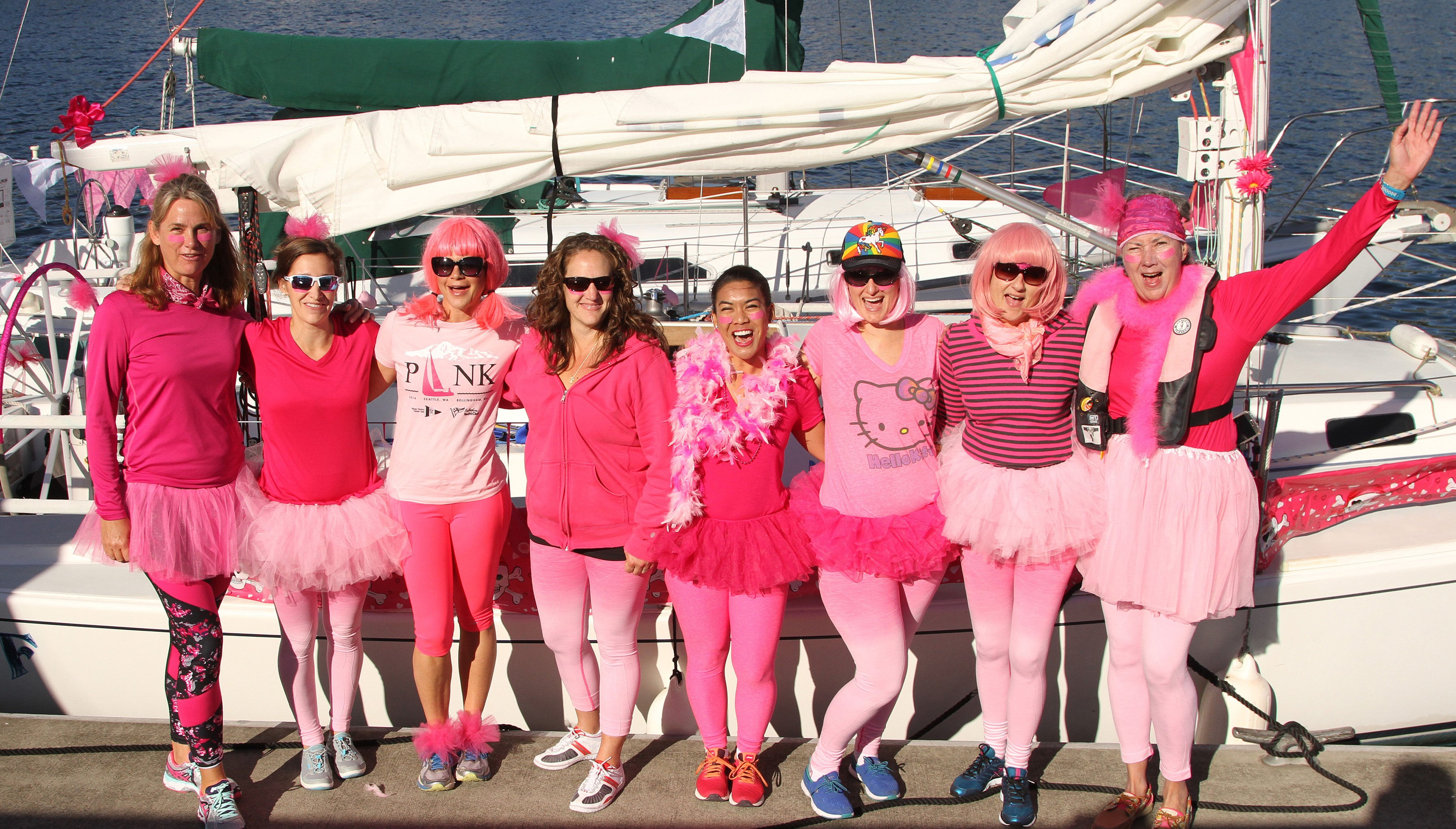 A letter from Puff's Skipper: Jenn H.
Dear SSC Friends,
Our 8 woman SSC race crew, the Sirens, are competing in the September 9th Pink Boat Regatta to raise $16,000 for breast cancer research. Last year Seattle Sailing Club and Puff raised $11,514.25 and won the 2016 Pink Boat Regatta! As some of you know, our team is new and works very hard in the Ballard cup races. As nice as it is to podium in those for our skills, this is a race of our hearts and matters much more to so many. We are racing for all those who have been and will be, affected by breast cancer. This year we are looking for a lot of micro donations and asking for all of our friends to buy us a virtual cup of coffee, $5 goes a long way. More is even better and if you donate 5 buoys, you and a friend can go for a daysail with a few of us Sirens.
Why Breast Cancer Research?
Because too many people lose their lives or have their lives dramatically altered due to this disease. Because recent developments in breast cancer detection and treatment have been able to prolong people's lives and more may be able to save them.
About 1 in 8 U.S. women (about 12%) will develop invasive breast cancer over the course of her lifetime. That means one of us on the team might.
The Pink Boat Regatta lasts 3 hours. In that time, about 90 women will be diagnosed with breast cancer.
About 40,450 women in the U.S. are expected to die in 2015 from breast cancer, death rates are higher than those for any other cancer, besides lung cancer.
Why The Breast Cancer Research Foundation?
100% of all net proceeds from The Pink Boat Regatta's events will be donated to The Breast Cancer Research Foundation. BCRF is the highest rated breast cancer organization in the US with an A+ rating from Charity Watch and 4 out of 4 stars from Charity Navigator, donating 91 cents of every dollar to breast cancer research and awareness.
Why sailing?
Because we are mermaids, obviously! Our team is a fierce, fun all woman crew whose mission is to gain skills and confidence and empower and support one another in learning and growing as sailors. That's why Pink Boat is a great fit because we want to support other women and men on their journeys. "Like" us, watch us in action, and follow along on our Team Puff Pink Boat Facebook page as we train and race! Thank you so much for your support!!
As a 501 (c) (3) not-for-profit organization, your donation is fully deductible as a charitable contribution and qualifies for employer matching dollars.
Thanks so much for your support,
Skipper Jenn, the Sirens, and our sponsor
Seattle Sailing Club