Boat Owner Testimonial – Bill and Roblynn Rall, Astraea
We chatted with boat owner, club member, and instructor Bill Rall and his wife Roblynn to discuss the benefits of being a boat owner with Seattle Sailing Club.
How long have you been sailing (in SSC or outside of SSC) and how did you get started?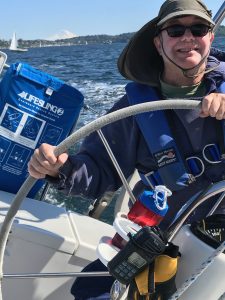 I have been sailing for over 40 years on and off.  I started out on dinghies in lakes in Ohio, raced windsurfers at the Coast Guard Academy, and for my cadet summer training volunteered to "grind" on larger race boats.   After a number of years serving on CG cutters, I then  started sailing and teaching sailing on cruising boats in the early 90's while teaching at the Coast Guard Academy.   I was able to use CGA boats while on vacation, and since then, with my wife Roblynn, we've spent many vacations cruising.  We've sailed with SSC from 1996 to 1998 when stationed here in Seattle, and then joined again in 2011 when I retired from the Coast Guard.  Additionally, I became an instructor in 2016, which has allowed me to become familiar with many other boats almost as much as my own! 
How long have you been a boat owner in the Club?  
We bought a J35C, S/V ASTRAEA in 2012.  The boat was already in the club.  
What do you like most about having a boat in the Club?  
We have always been "diy", do it yourself'ers, so having a boat in the club has allowed us to learn a lot about boat maintenance and care, while having advice from the club maintenance team on the best way to proceed, and when it is best to hire a project out.  Installing the anchor windlass was  a fun challenge that we tackled, however when it came time to install a radar and chart plotter, we opted to hire that installation.  
What would you tell others who are considering putting a boat in the Club?  
Go for it!  It is a great compromise in total boat ownership, for example when a gale blows through Seattle, I don't have to worry about checking my lines.  When the boat needs worked on, I can either do it myself or have the club take care of it.  This allows us a great amount of flexibility to travel, or simply do other things,  knowing the boat is being "watched".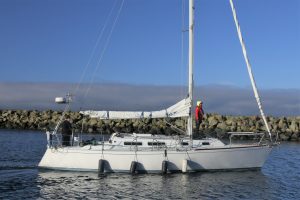 What was your main concern that would have prevented you from putting a boat in the Club, and what put your fears to rest?  
Two issues come to mind.  There is a certain amount  of financial risk, this is mitigated by keeping up with the maintenance and proper planning.  You probably won't make money, nor are you likely to lose money.  So, the outcome is you get to sail for "free".  The boat will get a lot of use, but that is really better than sitting at the dock anyway.  You also should be prepared to not get upset if the lines are not coiled exactly how you like them, or if the pencils in the chart table get put in a different bin.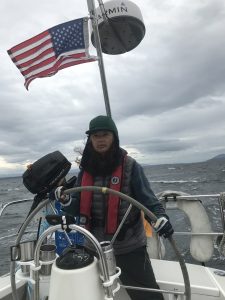 If you were to recommend Boat Ownership in the Club to your friends or family, what would you say to them?  
It will be a fun and learning experience!  In my years at SSC, I have always been able to go sailing when I wanted to.  If I was last minute I may not have gotten my own boat or first choice, but a J/105 has a much larger cockpit for a daysail in the sun anyway.  
Seattle Sailing Club boat owners help make it possible for hundreds of trained SSC club members to experience the joys of sailing the Puget Sound and San Juan Islands in comfort with their family and friends. Boat Ownership in the Seattle Sailing Club has many advantages. Learn more about them at
https://seattlesailing.com/boat-ownership-in-seattle-sailing-clubs-fleet/