Erden Eruc and The Great Pacific Challenge
Seattle Sailing Club is proud to support one of our instructors, Erden Eruc, as he embarks on his solo nonstop row across the North Pacific Ocean from San Francisco to Hong Kong.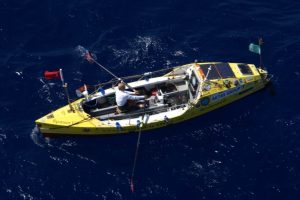 As an ambassador for Ocean Recovery Alliance, Erden will raise awareness about plastics in our oceans. He will also carry beacons on behalf of Ocean Voyages Institute to tag for later recovery any ghost nets that he may encounter. He is actively looking for science to take on board to serve scientists in need of data or observations. With science on board, he intends to apply to become a Flag Expedition for the Explorers Club. Erden Eruc, founder and president of Around-N-Over
Erden holds 14 Guinness Book World Records and was the first person to circumnavigate the globe solo using only human power, a journey that took 5 years and 11 days. You can follow his journey on his blog: http://www.erdeneruc.com/ 
Please consider helping us support Erden and his non-profit organization Around-N-Over in partnership with Ocean Recovery Alliance to raise awareness about plastics in our oceans.
Learn More Here