Five Benefits of Sailboat Racing
Five Benefits of Sailboat Racing at Seattle Sailing Club
By Steve Summers, Race Coach
Seattle Sailing Club offers a variety of opportunities to enjoy a day out on the water with a little bit of friendly competition. From long distance racing on weekends in spring and fall to evening buoy racing on Monday and Wednesdays throughout the summer, sailors of all levels will find something to enhance their skill set. Plus it's a lot of fun to go out with folks who know what they are doing and want to learn more.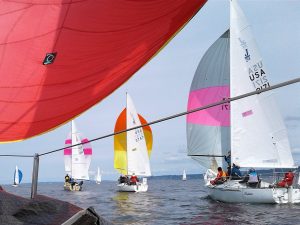 As a member of a five person crew you are able to share skills with each other and learn how to apply the basics of sailing to a variety of conditions. 
Learn how to shift gears and the wind speed changes up and down. You will learn to get the most out of your sails being coached on sail trim and getting immediate feedback on your actions comparing your performance to other boats sailing nearby. A big benefit racing in a one-design fleet. 
You will have the opportunity to experience different roles on the boat be it trimming the mainsail, jib and spinnaker, running sail controls from the bow or driving the boat. You may also find a new skill you like. 
You will become more comfortable sailing down wind, with a spinnaker where gybing will become second nature. 
With many other boats in close quarters applying the 'Rules of the Road' along with developing good boat handling skills will definitely add to your comfort managing traffic. 
I continue to learn each time I go out, and for beginners you will learn more in one day of sailing than you will going out by yourself for a week. 
Overall, you will increase your knowledge and skills for what is going on inside the boat, so when you go out for a day sail or off on a week long cruise you have a lot more time to get your head out of the boat to enjoy the spectacular views of Puget Sound. 
And remember: have fun out there!