Sunset & Winter Wonderland Sails
In our 3 hour sunset sail, you will sail out on beautiful Puget Sound while watching the sun set over the beautiful Olympic Mountain range. Take someone special out or enjoy a relaxing evening on the water with friends. No sailing experience is required, although this is a great opportunity to practice your skills on the helm and meet others in the sailing community. We will provide a licensed captain and life jackets. Food and drink may be brought onboard for a picnic on the water.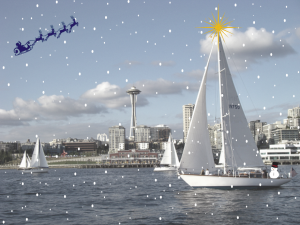 Our 3 hour Winter Wonderland Sails will take place on beautiful Puget Sound with an outstanding view of the snow capped Olympic Mountain Range. Bundle up with friends or a special someone. This is a great opportunity to dip your toes into sailing, practice your skills, or meet others in the sailing community. No sailing experience is necessary. Food and warm beverages are highly encouraged.
Per Event Capacities
Maximum: 6 participants
Minimum: 2 participants
Sunset & Winter Wonderland Sails are popular events at Seattle Sailing Club. We have a running waitlist of folks who would like to participate. Please let us know if you would like to cancel as soon as possible.
If you are sick or have been in contact with someone who has tested positive for COVID-19 in the last 14 days, we ask that you do not attend the event – please give us a call.
All cancellations must be sent directly to info@seattlesailing.com. Do not reply to any of your automatic event emails – we will not receive your cancellation.
Cancellations are available up to 72 hours in advance for a full refund. Cancellations within 72 hours of the event are subject to a 50% rescheduling or cancellation fee.
Refunds or transfers are not given to no-shows. Cancellations made by the Club due to heavy conditions, low visibility or thunder/lightning can happen. In these cases, you will be refunded for your event or you may use the credit toward a future event. Send us an email to let us know if you would like to be refunded or rebooked to another event.
Q: How can I prepare for my Sunset/Winter Wonderland Sail?
Schedule your sail. Call or email the club to schedule your lesson.
Pack your bag according to the marine weather forecast. We suggest bringing a waterproof outer shell, warm layers made with polyester, fleece, wool or merino wool (no cotton), non-slip/non-marking shoes and sunscreen. The National Oceanic and Atmospheric Administration's (NOAA) website provides up-to-date weather forecasts for the Puget Sound area. At the bottom of the page, you will find the forecast for the Puget Sound and Hood Canal
Q: What kind of boat will we be on?
You will be on a sailboat larger than 30 feet such as a J/105 or a J/32.
Q: Is alcohol allowed onboard?
Due to safety reasons, alcohol is not permitted on our Sunset or Winter Wonderland sails.
Q: Will we still sail if it is raining?
Yes, these events are rain or shine. The only time we will cancel a sail is if it is blowing 20kts+ (or 15+kts in the winter), thundering/lightning, low visibility (fog/smoke), or the minimum number of participants was not met for the event.
Q: What do I bring or wear?
Always check the weather and pack accordingly! Please do not wear black soled shoes on board. Bring a jacket, a warm layer, and a hat – even in the summer it can be very chilly on the water. In the winter, please bring a warm clothing, a blanket and a warm beverage of your choosing. In Summer, don't forget to bring sunscreen! Food and non-alcoholic beverages are welcome on board.