Keep Your Race Team Together with the Principles of Respect, Fun, and Learning
By SSC Race Coach and Instructor Nojan Moshiri
"We love Race day excitement. There is no better feeling than knowing your team is prepared."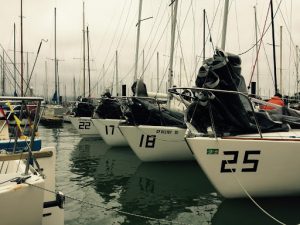 How many race boats struggle with finding and keeping crew? From my experience, many do. From scheduling conflicts, misaligned goals, communication problems, or myriad other distractions, it can be hard to sail with the same crew regularly. Meanwhile, the key to success on the race course is consistent and practiced crew.  
The crews that stick together have a few things in common: respect, fun, and learning. First, mutual respect for each other and the competition. Next, enjoying their time on the water and having fun no matter the challenges being faced. And finally, always learning and growing. These principles form the backbone that keep teams together.
Start implementing these early in your racing campaign, talk about it in the offseason, but it's never too late to implement.  Here are some questions to start thinking about building your race program.
First principle – Respect
How does your racing program encourage respect for each individual, the team as a whole, and the competitors, regardless of any status, rank, gender, or other biases? I don't enjoy racing programs with a pecking order.  Yes, there has to be a skipper and there are going to be people on the boat that are more experienced, but the best boats treat everyone with respect regardless of their real or perceived rank, status, or gender. Build your racing program by dropping the hierarchy and treating everyone as equals.
Example: Jill is a new sailor on a race boat. She has her ASA 101 and 103 and wants to be regular crew. She doesn't know how to rig an asymmetrical spinnaker, but on her first day another member of the crew proactively asks if she wants to shadow the foredeck person rigging the spinnaker.  The foredeck crew begins to explain the mechanics of the sail's controls. Jill is encouraged to ask questions and jot down her questions for later as well. After the race, time and space is made for further learning.
Does the team respect its competitors? Olympic sailing medalist Paul Elvstrom's oft quoted saying, "You haven't won the race, if in winning the race you have lost the respect of your competitors" should be your guiding light. I like boats that play by the rules even if no one is looking. 
Example: Do your turns (serve your penalties) and play by the rules even if no one saw you hit that mark, or even if your competitors are not playing by the rules. You can address the later problem with the race committee or by conversations with your competitors, not by also cheating. Avoid racing on boats that cheat.
Second principle – Fun
What is the mood on the boat before, during, and after the race? For the majority of us, we are racing at an amateur level, trying to build our skills and build a steady race program.  I like boats that have a light, easy going attitude and where there's a lot of laughing in good fun (not at the expense of others). The saying is "Fast is Fun" and the inverse is also true, "Fun is Fast".
Example: A skipper I race with has a positive outlook on every race. Even when things are going poorly, he points out the opportunities. By preventing the crew from slipping into negativity we always give our best and close the day looking forward to the next.
How are mistakes handled when they happen? When mistakes happen, there is a learning opportunity, but how are these mistakes handled in real time? I enjoy racing programs that move on quickly from mistakes, that don't let emotions take over, that don't engage in yelling or finger pointing, and those that focus on the race. It's not fun to see someone (or yourself) yelled at for making a mistake.
Example: Stan is relatively new on foredeck and he makes a rigging mistake that prevents a clean spinnaker hoist. The team allows Stan to fix his own mistake, gives him space and time to correct, instead of "sending help" if it's not requested. Another crew member takes notes about the incident so it can be analyzed after racing. 
Incidentally, some teams equate fun with enjoying some drinks. Discuss your approach to consumption ahead of time. If you are trying to elevate your racing program, fun and fast are usually at odds with being in an altered state.  I enjoy a beer on the way back to the dock after a race myself but not before or during the race. Whatever you choose, make sure that you never compromise safety and always stay legal.
Third principle – Continuous Learning
How is the communication before, during, and after a race? I like boats that handle mistakes, learning, and improvement before and after the race through debriefs and chalk talks. The middle of the race is not the time to be running a class or discussing major concepts.
Example: Alonso made several tacking mistakes during the race that were very costly in terms of boat speed.  The team quickly came to terms with the fact that their tacks were going to need more practice and focused on supporting Alonso during the race. After racing, the team came together, diagnosed the issue and together addressed how to make the jib sheet handling better. Before the next race, the team reviewed the notes and practiced. By the next week, Alonso was making highly improved tacks.
The theme here is that race time is for racing. If you're having boat handling issues you need to carve out time to practice, discuss, and learn outside of the race day. By compressing learning, practice, and everything else into race time, you are robbing yourself and your team from the focus and attention needed to do well.
---
These ideas require practice, commitment, and honesty to execute.  With effort you can build a high quality racing program that will bring many rewards and lead to long term learning, growth, and fun with the same crew.